Preparing for a Boudoir Photo Shoot with Pinterest
How to use Pinterest to prepare a boudoir photo shoot
Let's be clear on one thing: Pinterest is a powerful tool, but it also has a big disadvantage. You could literally spend hours before checking your watch.
However, it's not always easy to put words onto what we would like to do during a boudoir photo shoot or a , couple boudoir photo shoot.
This is why we use boudoir pictures from Internet to give ideas before our preliminary interview.
Create a Pinterest account
There's nothing difficult in creating a Pinterest account. Follow this step by step guide and you'll be ready to go in less than 5 minutes!
On your computer
Go to Pinterest
Click on Register on the top right of the screen
Connect with your Facebook or Google account, or if you want, you can also register through your email
Welcome to Pinterest!
On your smartphone
Go to the Google Store or Apple App Store
Search for "Pinterest" and download the app
Follow instructions on the screen
You're ready to search for a classy boudoir style that fits you!
Create a Pinterest board
Creating a board will allow you to collect pins you like. You can have as many boards as you want.
In order to do that, just go to your profile and push the big "+" button. You will be able to name your board and choose to publish it or keep it secret.
Tip: You can also create a board from your search feed. When you want to save a pin, select "New board"
Public or secret?
A public board can be seen by anyone on Internet. It's useful to share ideas with friends on home improvements, gifts, or anything you don't mind to be seen in the open… But for some things, you generally will want to keep some privacy. At best, sharing it with some friends, but that's it!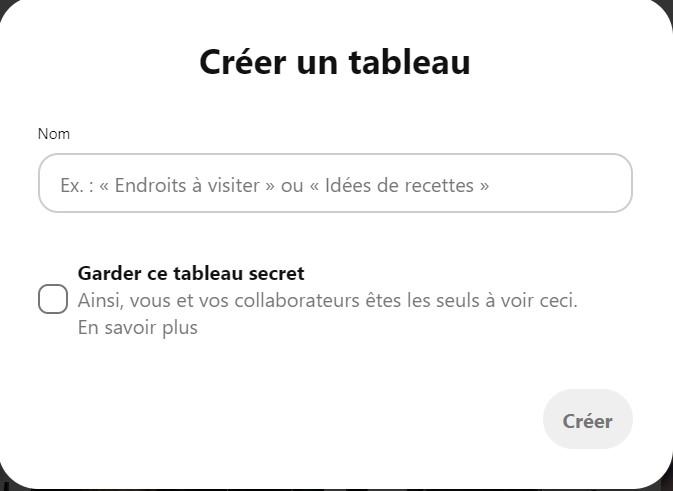 Pinterest allows just that with secret boards. You can keep some boards (or all of them) just for you, but you can also add specific user to collaborate on a board.
These boards can be put secret or public at any time.
At Dispel Photo, we use secret boards a lot. As a matter of fact, when we plan out your boudoir photo shoot, we invite you to collaborate on a board. This way, your boudoir photo shoot will be stress-less!
Why use Pinterest for boudoir?
Most boudoir photographers do not copy their peers. But we do get inspiration from one another! This also helps customers to better choose their boudoir style photo shoot. For instanec, what are the differences between goth boudoir and low key boudoir?
Here are some ways to use this social media:
Find pictures of boudoir styles
Find lingerie or clothing
Find boudoir poses to try
…
We also have a list of inspiration you can draw from, if it helps you make a better choice.
Conclusion
Using Pinterest isn't mandatory, but it's nevertheless a useful tool to be better prepared and serene once in front of the camera. There's only one thing remaining: book your session before all slots are taken! Let us the chance to prove you you ARE 100% worth it!